Our Team
Chan Orthodontics takes pride in staffing every position with highly trained,
 caring, service-oriented personnel. As a team, we strive to provide the best 
orthodontic care available, in a conscientious and professional manner. Please feel free to contact our team with any questions or concerns that 
you may have at any time.
Amanda
Patient Relations Coordinator
Registered Dental Assistant

Lisa
Treatment Coordinator
Registered Dental Assistant

 

Stacy
Registered Dental Assistant

Dana
Registered Dental Assistant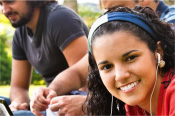 Brace yourself and love your smile."